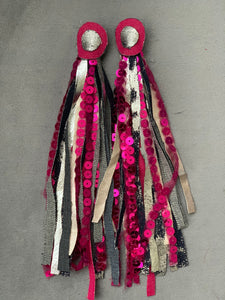 These earrings are STUNNING!!! 
- Seven inches in length they hang all the way down to your shoulders making a huge statement! 
-A beautiful pink and silver in ear post really sets these apart from other fringe earrings that are out there. Pink denim, hot pink sequins, combined with silver & deep blue denim fringes make these so delectable! 
- lead and nickel free hooks, lightweight and easy on the ears
- Every EXCLUSIVE pair of City on a Hill earrings comes with a satin pouch for storage. Every pair is carefully hand made, and ONE OF A KIND just like you!